Loyal customers across the country can look forward to brand new Stewarts & Lloyds loyalty cards and added benefits. The Stewarts & Lloyds loyalty ca…
---
Benefits for cash customers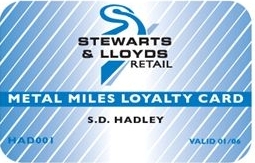 The main benefit for cash customers are discounts in the form of quarterly pay-outs. These pay-outs are rewarded as credit notes, which the customer can then claim against their next purchase at that Stewarts & Lloyds Retail Branch.
What discount is available?
The discount percentage, at which the discount value is calculated, may increase based on the value of the applicant's accumulated annual purchases during the Company's financial period, which for the time being ends on 28 February of each year.
The discount percentage will be calculated at the end of each quarter. Should the discount percentage be increased, the new percentage will be applied to purchases commencing in the new quarter.
Depending on purchases, cash customers can receive as much as 5% discount.
Other added benefits include being added to the sms database for daily specials, receiving a weekly e-mail Blitz with specials just for Loyalty card members, receiving the Stewarts & Lloyds monthly electronic newsletter and qualifying for free gifts when Stewarts & Lloyds is running a promotion i.e. in conjunction with the Rugby World Cup.
How do I qualify?
All you need to qualify for a Loyalty Card is a valid Identity Document and viable contact details. Visit your nearest branch today and enquire about your Loyalty card.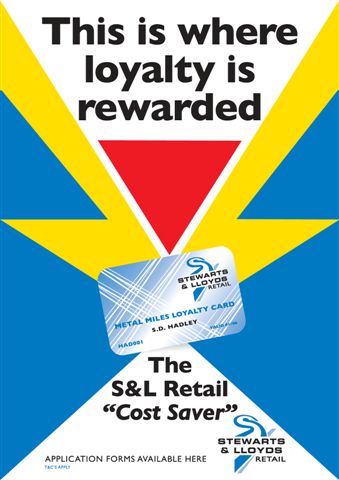 Stewarts & Lloyds has been serving Africa since 1903. With more than 30 branches, we offer steel and tube, pipes and fittings, valves, pumps, irrigation equipment and design, fencing, profiling, laser products and industrial hardware.
Find your nearest branch and start earning Metal Miles
Branches are located in Alrode, Bedfordview, Bloemfontein, Boksburg, Booysens, Cape Town, Durban, Edenvale, George, Germiston, Hazyview, Jet Park, Kimberley, Mafikeng, Nelspruit, Polokwane, Port Elizabeth, Pretoria, Randvaal, Robertville, Rustenburg, Springs, Vanderbijlpark, Vereeniging, Wadeville, Witbank and Wynberg.
For your nearest branch, please see our branch network, or contact our customer care line on 0860 10 27 99, alternatively feel free to e-mail us at info@sltrading.co.za.