The History of Stewarts & Lloyds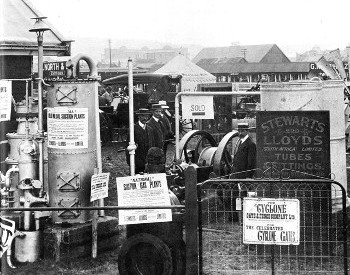 British owned company Lloyd & Lloyd opens two branches in South Africa, one in Cape Town and the other in Kimberley. A & J Stewart & Menzies in Britain have a presence in South Africa being represented by Brown & McKenzie.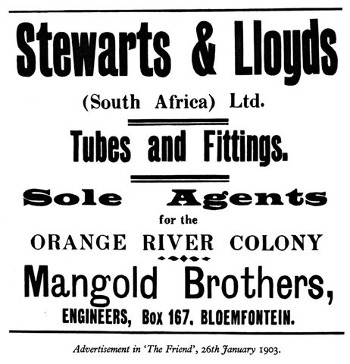 1903
Stewarts & Lloyds is founded
Seeing the need to consolidate their South African interests, the companies amalgamate to form Stewarts & Lloyds ( South Africa) Limited and expand their branch network to include Bloemfontein, Durban, Port Elizabeth, East London and Johannesburg. This advertisement was in 'The Friend', 26th January 1903.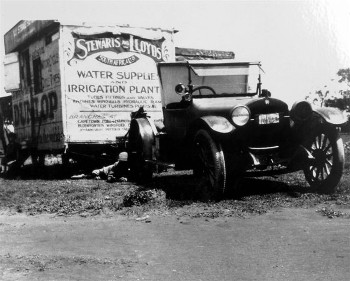 1927
Vereeniging Head Office
Stewarts & Lloyds re – constructed into a South African company with a share capital of 755 000 Pounds with the head office and works situated in Vereeniging.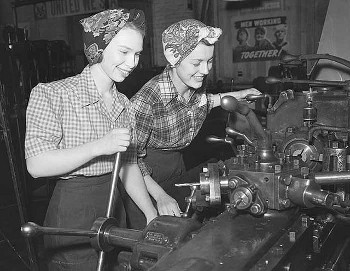 1939 - 1945
The War Years
During the war years the company made shells at the Vereeniging works to support the war effort with many woman employed to fill the gaps left by men answering the call for military service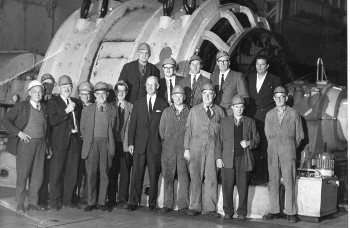 1946 - 1980
Post War Years to Eighties
Stewarts & Lloyds supply a wide range of products to the gold fields in Welkom and Odendaalsrus, as well as to the coal mines, diamond mines and farming industries. Vereeniging works is renamed Tosa and subsidiary companies such as Salister, Salweir, Salvalve, Salmac, Salchain, Salcast are formed. Stewarts & Lloyds Trading is set up to be the trading arm of most of the Stewarts & Lloyds manufacturing companies.
Dorbyl acquires the Stewarts & Lloyds group of companies some of which are sold off and the rest placed under the Dorbyl light and general banner. Stewarts & Lloyds trading remains a separate company in the Dorbyl stable.
Robor industrial holdings, a Barloworld company enters into a joint venture with Dorbyl to run Stewarts & Lloyds Trading. Shortly thereafter RIH takes 100% control and renames the company Robor Stewarts & Lloyds.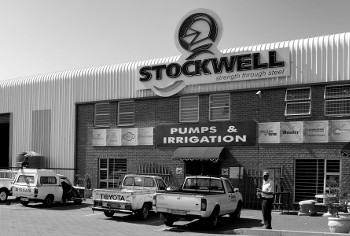 2001
Stockwell Acquires Stewarts & Lloyds
Barloworld state their intention to sell Robor Stewarts & Lloyds. Stockwell, a company of 15 years standing purchases Bloemfontein, Kimberley, Witbank, Rustenburg, Wadeville and Vereeniging branches to add to their current 10 nationwide branches. The Stewarts & Lloyds name is also purchased
Today
Stewarts & Lloyds Today
The CEO's of Stewarts & Lloyds, started Stockwell in 1988 and although they have the majority shareholding in all the branches, the individual branches are run by shareholders. Besides the national footprint having grown to 32 outlets, the product portfolio has grown from the traditional Stewarts & Lloyds offering to include a wide spectrum of steel products and added value services.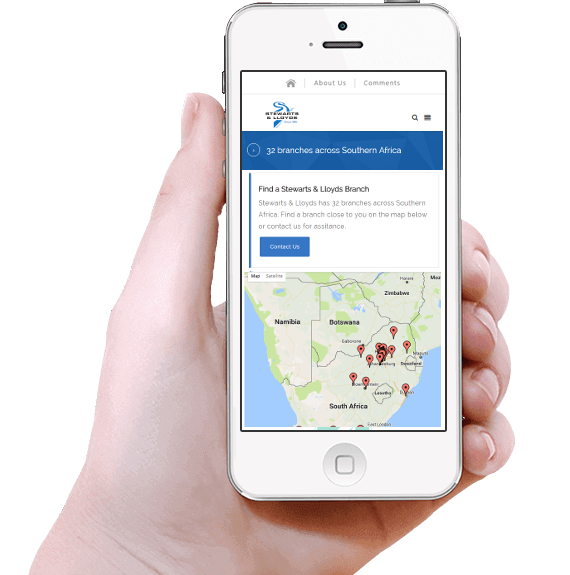 Stewarts & Lloyds Hardware
Stewarts & Lloyds Hardware is the cash and carry arm of the highly successful Stewarts & Lloyds group. Paying cash,is a "brilliant" method of securing greater savings. We accept all credit cards, as well as cheques. Cheques are guaranteed through CGS.

A TRUSTED NAME. AN ESTABLISHED REPUTATION.
Stewarts & Lloyds has a trading record of over 100 years! The name is synonymous with excellent service and good quality products.