Stewarts & Lloyds restores the windmill Golden Harvest Park Johannesburg
---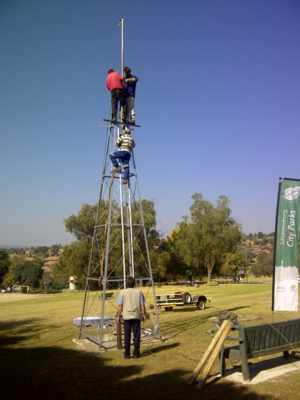 Residents around the Golden Harvest City Park in Johannesburg, would have been well aware of the very old and dilapidated windmill, running with the wind for over seven decades now.
One of these residents is Gerard Byrne. Mr. Byrne thought it wise to study the windmill from close range and contact the original company responsible for erecting the windmill.
Stewarts & Lloyds restores the windmill Golden Harvest Park Johannesburg
He noticed the Stewarts & Lloyds name on the tail and decided to contact one of the
branches to see how the company can assist in renovating, what was now an eyesore and a possible danger to visitors of the park.
Stephen Hadley, shareholder of the Booysens branch, thought this was a super idea and the ball started rolling.
Now, courtesy of Stewarts & Lloyds, the park boasts a new, shiny windmill. This windmill will be running with the wind for many years to come and many generations to appreciate!
Johannesburg City Parks caught it on film.
Follow this link to watch the short video: http://youtu.be/eSodiV0g898